It was suggested i make a quick how to including photos of me wrapping one of my headers and so here it is!
First of, you will need your Headers

, Exhaust wrap and some metal tie wraps
For a 4 branch manifold you will need around 15-20 meters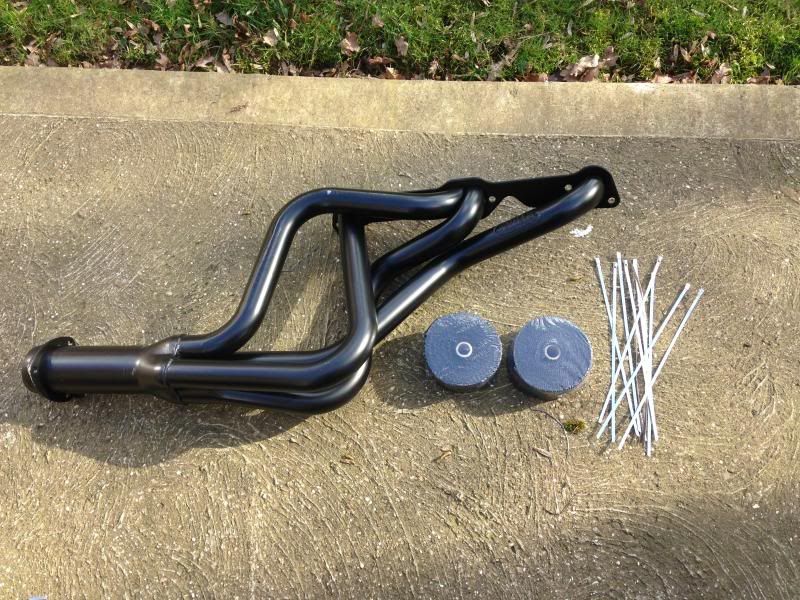 Take at least 15 minutes to plan how your going to wrap them. Basically, the aim (if you want them to be tidy) is to have only 2 wrap anchor points visible. Plan how your going to make this happen - look at where the primary tubes are too close together for 2 layers of wrap, look at how you can hide one anchor point with another layer of wrap....you only want to be seeing the top anchor and collector anchor when you are done.
First thing i noticed with this hedman passenger side header is this:
These 2 primary tubes run so close together that there will be no possibility of getting 2 layers of wrap on them. They will have to be somehow wrapped together - this is not so easy because they do not run parallel to each other, they are at 90 degrees!
I decided to try and wrap that area where they come together with one piece of wrap and tried this method which turned out pretty good:
I started wrapping the vertical primary at the flange and then twisted it 90 degrees on itself and wrapped the horizontal tube with the same piece, wrapping it a few turns either side of the horizontal tube until the 2 pipes were covered.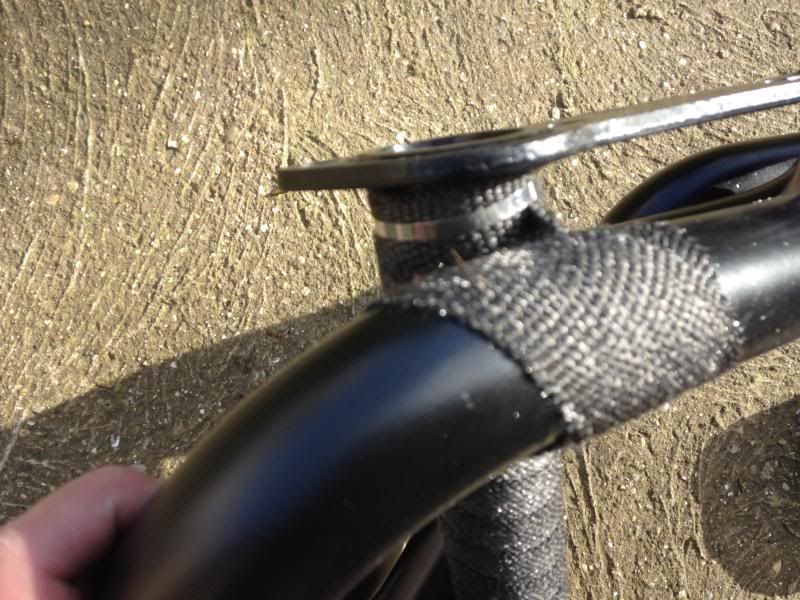 Unfortunately, with headers like these you cannot get a decent wrap
and
have gorgeous looks at the same time - i looked at it as a performance related and temperature controlling exercise rather than a detailing exercise. Dont forget to secure the top of the wrap where you started with a tie wrap - these metal tie wraps are not very nice to work with, but basically they work in the same way as plastic ones without the ratchet effect. Pull them tight by hand, and then use a pair of pliers to pull them as tight as they can go. You can also hold a screw driver against the clip and push in the opposite direction to your pulling with the pliers.
Then, once you are happy you have successfully wrapped the area where the 2 tubes come together and secured it, you can continue down the vertical tube: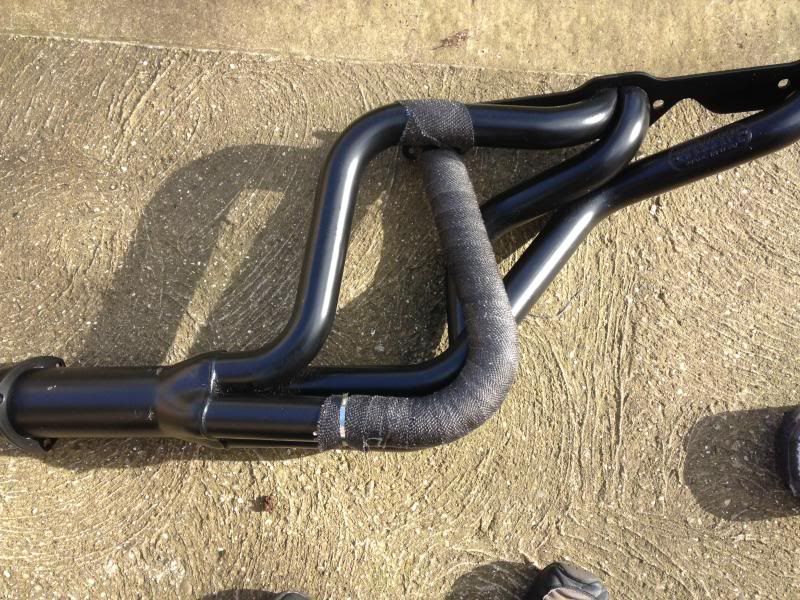 note how i have not gone to the end of the tube - this is because this area will be covered by another piece of wrap later on - this is what the planning stage i spoke about is for.
next, i wrapped the tube immediately behind the one i had just finished, and same again - not all the way to the end: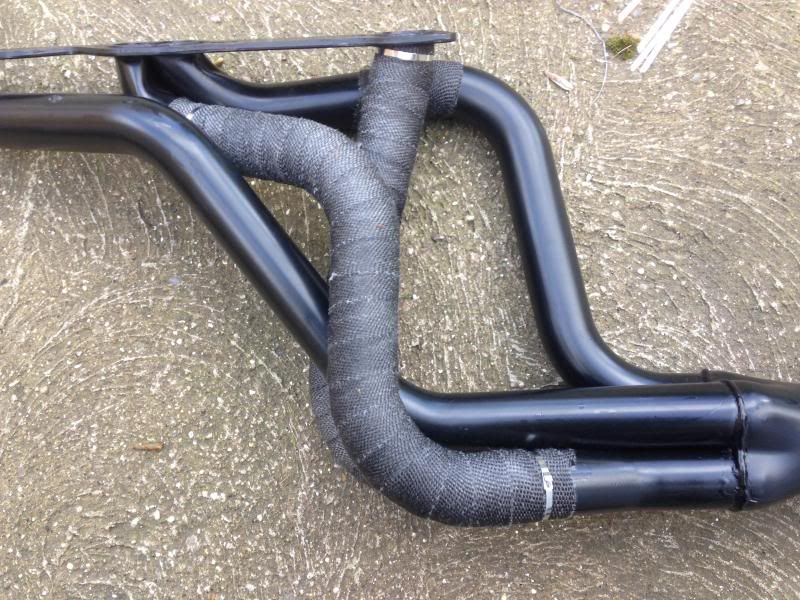 try to wrap with a 1/4 inch overlap (or whatever your wrap instructions say!) as you will save on wrap and time.
secure it at the top
note how once again ive not gone to the very end, as you can see that the tubes are very close together again and so they will be wrapped together - covering that anchor point.
Next, it was time to use an off cut - never throw them out until the job is done! The 3 tubes are way too close together to wrap individually and so they will be wrapped together as previously stated. You can use a short off cut to wrap from the flange to area where the tubes meet, and where it will be hidden by the multiple tube wrap.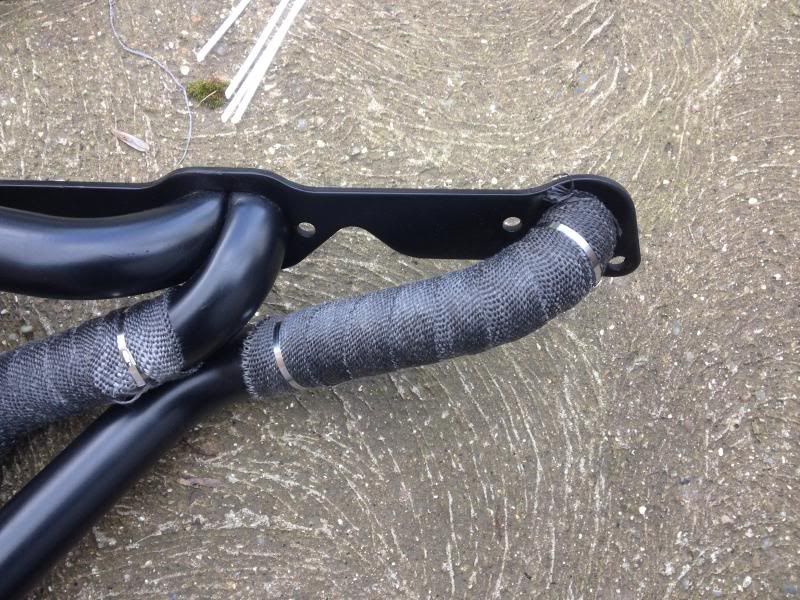 Here is the issue:
just not enough space for a single wrap on each tube. you can also see in that last photo that i missed out the section where the tubes are too close, and then started again and continued to wrap down to the bottom of that tube:
I also deviated from that central tube and wrapped over the other tubes to hide an anchor point and ended up anchoring the end of that piece of wrap on the final primary tube to be wrapped.
now for the ugly bit - the multiple tube wrap. Its not pretty, but necessary im afraid: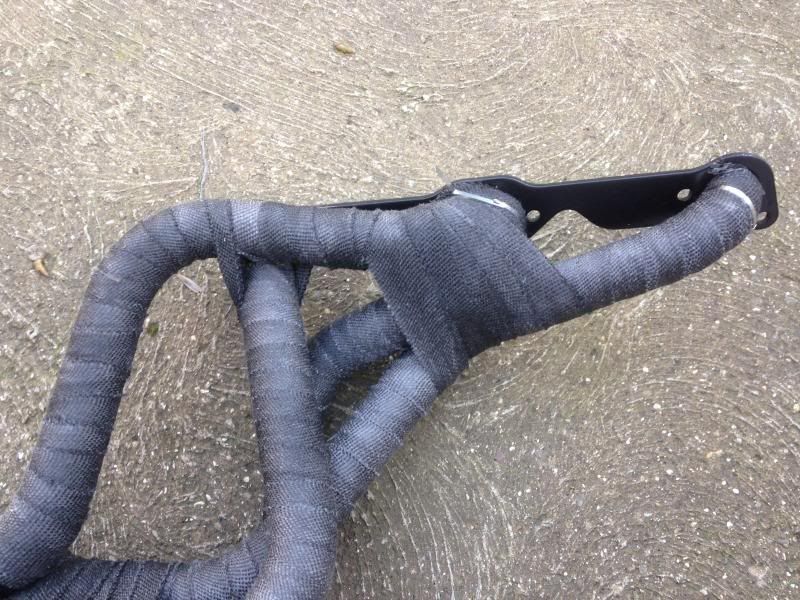 You can struggle to get the wrap tight here due to the strange angle of all the tubes together, but pull as hard as you can and you get it something like. You will find however that one side of the wrap will feel very taught, and the other side a tad looser than you would like....this is unavoidable, again due to how the wrap falls around the angles. As long as one side is taught, your ok - its not going anywhere....
continue wrapping the 3 tubes together until you can break away from all 3 and start wrapping the final tube. Wrap this down to the end - you weill have to wrap over and around the first piece of wrapping you did on the vertical and horizontal tubes earlier as you can see in the photo. When you get to the end of the tube, you will easily see where to need to start wrapping over the other anchor points you created earlier - by wrapping around all 4 primary tubes together, and continuing along the collector. How far down the collector you go is up to you. I opted to end my wrap about 3 inches from the flange. Finalise that last piece of wrap with a tie wrap and relax! you are done!
If your arms are not aching by this point - you didnt wrap tight enough!!!!

There are variations between the driver and passenger side headers, so its all about that planning stage - dont rush this stage and you will easily work out how to wrap the header neatly.
Hope this helps somebody!